A Quick Guide to Incoterms
Updated by Alfayriad
Incoterms are sales terms that define who arranges for the payment and handling of the goods during shipping, from the moment the goods leave the door of the seller (the manufacturer) until they arrive at the final destination of the buyer (your).
"Incoterms," as defined by the International Chamber of Commerce, is a shorthand for "International Commercial Terms."
Incoterms do: define the seller's and buyer's obligations and costs. Incoterms create a common and reasonably accurate understanding between a seller and a buyer of the respective contractual responsibilities and costs related to the distribution of the goods of the buyer.Define the hazard crossing point between buyer and seller with respect to loss or damage to product.Provide directions to airlines, forwarders, customs brokers and others involved in the shipment of your goods, as well as to banks and other financial institutions.Do not include incoterms: cover title ownership / passage. Passage of title should be defined separately in the sales contract Cover payment by means of a "retention of title" clause. Payment terms are agreed separately for the goods.Insurance coverage. Both CIF (Cost, Insurance and Freight) and CIP (Carriage and Insurance Paid) define insurance as the liability of the seller directly. Certain words do not explain who is responsible for this.The graph below summarises each of the regular 11 incoterms and identifies the three most common incoterms.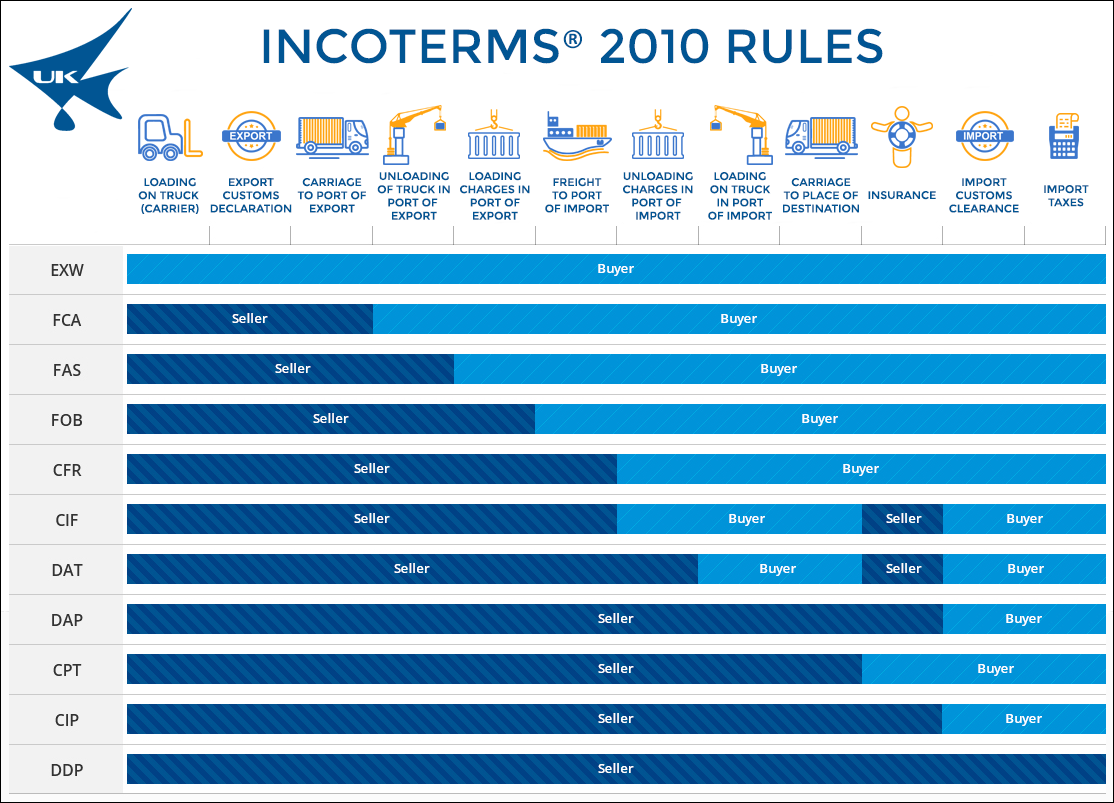 incoWhat are the most frequent incoterms?
FOB (Free on Board) The seller shall be responsible for delivering the goods to the port and loading them on board the ship, and the seller shall be responsible for all costs associated with such duties, including terminal handling. Risk is passed to the buyer from the seller as soon as the goods cross the railing of the boat.
EXW (Ex Works) It is the seller's responsibility to place the goods at the seller's premises. From the premises of the seller, the buyer assumes full responsibility, cost and risk.
FCA (Free Carrier) The seller is responsible for delivering the goods at the agreed delivery point to the custody of the carrier named by the buyer and for the costs of delivery. Also, the seller is responsible for the risk and cost of loading the cargo on the carrier's means of transport. It is not the responsibility of the supplier to unload the cargo or terminal handling charge cost. Risk is passed to the buyer from the dealer as soon as the items are shipped to a carrier.
Prime Freight will start handling your shipment at the point where, according to your incoterms, the buyer takes responsibility for the shipment.
When you submit an application for a quote, you will note your incoterms in the Prime Freight